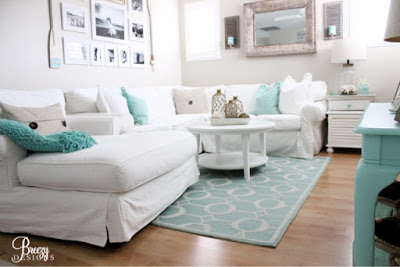 Happy Tuesday!
I hope everyone had a wonderful weekend!
Today I'm talking about rug pads.
I know, not such a glamorous topic but it is actually a key piece for adding comfort to your room.
In the past I would recommend rug pads to my design clients. It was supposed to help with the movement and cushion of the rug but it never really worked.
 I recently discovered
Rug Pad USA
 . I had no idea that high quality rug pads existed, I was so used to the cheap flimsy ones.
 I wanted to add extra comfort to my upstairs loft rug because it always felt like we were standing on our wood floor even with the rug under our feet. The solution was our carefully picked
This is our loft.
We spend most of our time in our loft so our area rug gets a lot of traffic.
This is before we added our rug pad.
There are three layers of protection built into this rug pad.
1. A needle punched felt surface is designed to grab and hold the bottom of your area rug.
2. A dense felt core adds comfort, support, and floor protection.
I chose the 1/3" thickness.
3. A grooved natural rubber backing grabs your floors and prevents rug movement in any direction.
After we added the rug pad we noticed an immediate improvement.
After a week of testing the rug pad I can say that we are excited to have installed it.
Visually there is no evidence that the pad is even there, mostly due to having it custom cut-to-fit. Under-sizing the rug pad about an inch all around the edge, is recommended.
The Premium-Lock rug pad can be found
here
.
If you would like a rug pad of your own, 
Rug Pad USA
 is giving my readers a 15% discount on all orders!
Just use Coupon Code PR15OFF
Hope everyone has a wonderful week!
XO