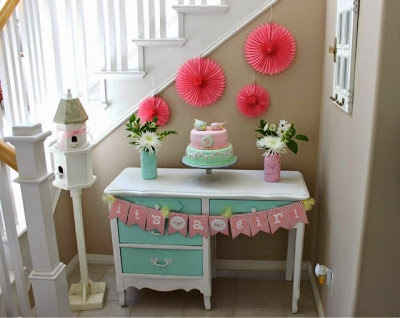 Happy Thursday!
The weekend is almost here and I'm super excited to share with you a Baby Shower I co-hosted for my sweet friend!
The beautiful cake table! I used a vintage desk to display the cake.
I used Bakers Twine and lil birdie tags to embellish the Mason Jars with.
The candy table.
Spring flowers in rustic mason jars.
The shower was held outside. It was a beautiful Spring day!
We used lanterns from our local party store to add a touch of pink to the umbrellas.
The Daddy to be signing the Thumbprint Tree.
My Beautiful Friend, the Mommy to Be!
It was a Beautiful Day full of love and happiness! Babies bring so much joy! I can't wait to meet their sweet little one!
Xo